For the third year in a row, Galgus will be exhibitor company at the Mobile World Congress in Barcelona. Considered to be the biggest and best mobile event in world, the company will introduce a brand new features of its CHT software: Wireless Intrusion Detection System (WIDS) and Wireless Intrusion Prevention System (WIPS).
From February 25th to 28th, a new edition of the Mobile World Congress will be held in Barcelona. This is an annual congress around the world of mobile communication and is considered the most important in the world of its industry. 110,000+ visitors from 200+ countries and 2,300+ companies will be there, including Galgus, which will be one of the 50 companies that will have its own booth (#44) within the Spanish Pavilion in the trade show.
There, Galgus will be able not just to explain its technology, which manages to increase the speed of a WiFi network by five times, reducing the level of radiation by 84% and reducing the electricity consumption by 60%, but to demo live its new features: Wireless Intrusion Detection System (WIDS) and Wireless Intrusion Prevention System (WIPS).
Cibersecurity is seen as one of the most important problem. In fact, wireless communication has inherent vulnerabilities as the signals share the electromagnetic spectrum. For network owners and system integrators, ensuring the secrecy and privacy of communications is a major concern when operating a Wi-Fi network. Public networks with high user density, such as those present in convention centers, trains or airports, are the most vulnerable, as they are quite attractive for those who want to make malicious use of Wi-Fi. The most common attacks such as RougeAP or man-in-the-middle are very easy to carry out with free tools, and are the easiest to deceive unwary users.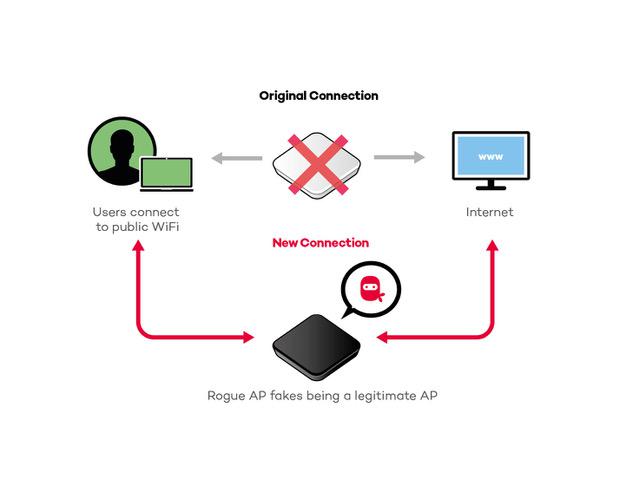 A RougeAP is a wireless access point able to fake one of the legitimate AP's on your network. It does so by either cloning the SSID announced by your teams, the MAC address of one of them (BNSSID), or even the beacon frames and the web applications used (especially critical with captive portals). These rogue AP's are deployed instantly by people who want to use your users' devices to connect to them, thus allowing access to sensitive data (from user login passwords, to credit cars).
In this context, Galgus has developed and patented Cognitive Hotspot(trademarked) Technology (CHT), an embedded software that is installed within AP's of a wide range of manufacturers. CHT has modules to optimize the network, to reduce the energy consumption or to locate devices, but also has modules to mitigate the outbreak of security problems such as rogue AP's. All them will be showcased in Barcelona at Galgus' booth located at Congress Square CS50. Spanish Pavilion. Booth#44.
About Galgus
Galgus develops and markets a unique WiFi technology that is currently being used by numerous OEMs and system integrators worldwide to deliver high-performing WiFi networks. Galgus' Cognitive Hotspot™ Technology (CHT) is an embedded generic software that makes WiFi networks intelligent and optimizes spectral efficiencies for WiFi routers and Access points (APs).
CHT increases WiFi performance (Goodput) by up to 400%, while reducing interference levels and power consumption, especially in high-user density environments. CHT creates a fully distributed Wi-Fi network, making each AP intelligent. APs with CHT measure key network metrics, exchange them with neighboring APs and together optimize radio resources in real-time. A WiFi network with CHT is more reliable, better performing, greener, and delivers a flawless QoS (Quality of Service) for every connected user and thing (IoE).