The Wireless Global Congress Americas (WGC) is a key event to understand the latest developments and opportunities in the WiFi sector. A golden opportunity to build strong professional relationships and better understand the reality of the sector and its needs. Galgus will not miss it, being an official sponsor and counting with the presence and participation of our Business Development & Strategic Partnerships, Blaz Vavpetic.
Galgus is going to be very present and active in one of the most relevant global events on WiFi technology, the Wireless Global Congress America 2022 in Chicago. It will be held from June 6th to 9th at the Palmer House Hotel and is organised by the WBA (Wireless Broadband Alliance) and the Wi-Fi Alliance, with the sponsorship of Galgus.
It will bring together the leading companies and professionals in the WiFi industry, including Galgus. More than 500 attendees (50% CXO's) and 50 operators and speakers will be present.
A unique opportunity to generate synergies and lay the seed for new projects together with companies, operators, device manufacturers, service providers, municipal representatives and other expert organisations.
This 2022 edition, which has as its theme "Driving Digital Growth", will host presentations, networking sessions and much more, covering topics such as:
The leadership of the Wireless Broadband Alliance and Wi-Fi Alliance.
What do retailers and hotel companies need to attract customers and increase revenues?
WiFi for cities, municipalities and public spaces.
Changing the dynamics of public and guest WiFi.
Importance of WiFi security and how it is being addressed.
Future Wi.Fi in the home, the smart home: architecture, performance and innovation.
Road to WiFi 7: 6 GHz WiFi and convergence with 5G: opportunities, technology and challenges.
WiFi and smart transport.
Enterprise WiFi: Industrial IoT and smart manufacturing.
WiFi opportunities for operators: public and guest WiFi; home broadband and next generation networks.
How will Galgus participate in the Wireless Global Congress 2022?
During the event, Galgus will be represented by Blaz Vavpetic as VP, Business Development & Strategic Partnerships. Blaz will give a presentation on the 9th at 5:50 PM ET entitled "Quality of experience key to future of WiFi".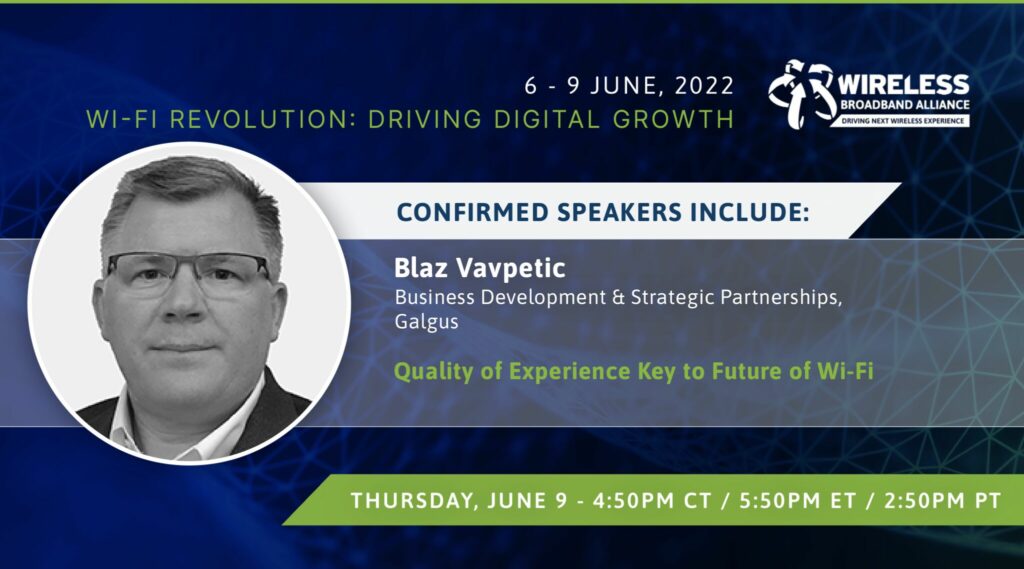 In it, Blaz will talk about Galgus' patented CHT (Cognitive Hotspot Technology) as a clear example of the implementation of the AIOps (Artificial Intelligence for IT Operations) concept in WiFi technology.
He will highlight the need for the WiFi ecosystem to demonstrate quality and reliability, using data analytics and AIOps to drive quality of experience, increase customer satisfaction and achieve better operational scale. All of this at a time of opportunity due to spectrum expansion and the innovations arising from WiFi 6 and WiFi 7.
WiFi must prove its worth to businesses, giving them the confidence to use it in digital transformation initiatives, either exclusively alongside public and private mobile networks.
Undoubtedly, we are on the verge of an essential event in the Galgus calendar and in the whole WiFi sector. As far as we're concerned, we've got everything ready. Can we count on you? We look forward to seeing you in Chicago!