For managers of many types of companies and entities, it is very valuable to know aspects such as the number of people who are at the same time in a particular location, the time they spend there and the historical values of their stays. From Galgus, we offer a solution that is able to provide this type of data through Wi-Fi networks.
Galgus Wi-Fi network solutions bring much more than a fast, robust and secure connection to businesses and public organisations in all kinds of professional scenarios. They also have the ability to identify and assess the presence of people within range.
This functionality of Presence Analytics is one of the features we recently highlighted during our participation in the Mobile World Congress in Barcelona. There we took a demo that counted visitors to our stand during the days of the event, in which we also included data taken days before in our office, in order to have a historical database.
What information does Presence Analytics provide?
This demo was based on a single Wi-Fi access point, sufficient to measure the presence on our stand. Its results are represented graphically so that network managers can interpret them more easily. Among these we can highlight the ones we are going to mention below.
Visitor segmentation
Depending on the time spent in the area of influence of the access point, 3 categories are defined: passers-by (their stay is less than 5 minutes, bouncers (between 5 and 20 minutes) and visitors (more than 20 minutes). It should be noted that these time intervals are configurable according to the needs of each manager.
All this can be used, for instance, to determine the funnel of entry from outside the establishment. That is, of all the people who pass through the door, how many decide to enter? This is a useful way of measuring the attractiveness of the premises or the effectiveness of window displays or outdoor advertising.
Time spent per visit
Once the person is in the area we want, we can quantify the average time of their visit, as well as its distribution by days and hours. This metric is very practical to know the success or failure of some sales strategies in the store.
The longer or shorter dwell time determines whether the products on offer arouse sufficient interest among customers or whether, on the contrary, they do not find what they are looking for or find it expensive and leave shortly after entering. It is also a very valid resource to discover the reasons why there are more or less people than desired on certain days or at certain times.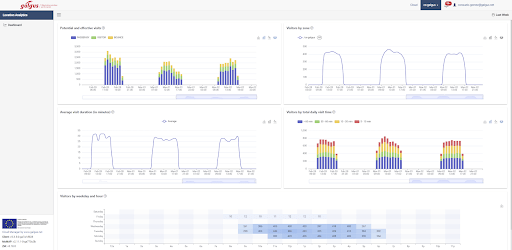 Distribution of people according to their connection to the network
Galgus' Presence Analytics solution is able to recognise users who are connected to your Wi-Fi network and those who are not, but are within range. In addition, among those who are not connected, it is able to recognise those whose devices have random MAC addresses and those who do not.
The vast majority of modern Wi-Fi equipment continually rotates its MAC addresses to avoid tracking. This can cause tracking solutions to count as multiple devices to one, as they detect multiple MAC addresses.
To avoid having false results, Galgus' patented technology fixes the MAC address or is able to extract a fingerprint that uniquely identifies the device.

Undoubtedly, this Galgus Presence Analytics solution is highly valued by various sectors, including retail, tourism, hospitality and many more. From the data provided, your managers will be able to detect trends and find causes for the success or failure of their actions, being able to take the most appropriate measures for continuous improvement.
If you think this solution is perfect for your project, we invite you to learn more about it by getting in direct contact with our team, who will give you all the information you need. Let's talk?